myAVIS

® CRM software in the field
Discover the magic of an online CRM assistant to lead your sales team
to highly visible results.
How does myAVIS® CRM work?
With the myAVIS® app you can use all the CRM functions on Android operated tablets. The system is designed so it can be operated very easily and quickly without lengthy training. Everything is where you'd expect it to be and works as you'd expect it to work. And best of all – all the data is available to you within a matter of seconds after transfer to the primary information system.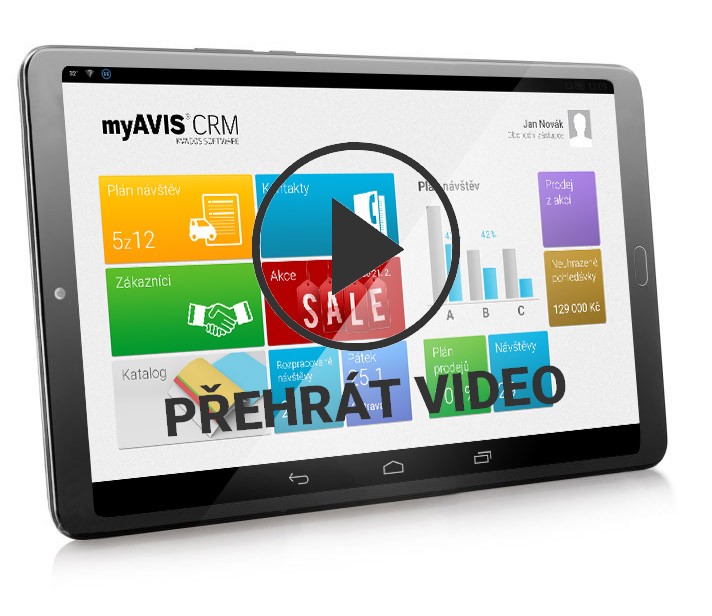 Do you need a greater overview into the activities of your sales reps?
Do you know the percentage of your goods on the shelves in every shop?
Do you know how well your sales promotions are done?
Do the shops follow the agreed planogram?
Do you know the current prices of competing products?
We present specific areas where CRM can help you with your daily business routine.
Effectively manage the sales, supply and overall presentation of your products. With myAVIS® CRM you can serve both wholesale and retail outlets,
as well as the independent market.

Instant control of the sales team
Have objective information about your salespeople's activities – the organisation of the working day, the visits made, business operations with clients or how well the goods are displayed. If needs be, you can immediately share requests with sales representatives.

Get the right person on board
Make working with customers easier using systematic work with tasks. Define the tasks for each rep and then assess whether they have met them and what commitments they have made for the next visit.

The competition under your thumb
Your sales rep will be able to evaluate the in-store display, distribution and pricing of other goods by brand and manufacturer.
Either by what they feel or by a detailed exposure with regard to units of measurement such as items, centimetres and so on.
Control of distribution
Avoid the worst – a sold-out shelf. During the sales visit, check the display against how it should be, not only on the shelf, but also at the secondary location, on pallets or in the central warehouse. Thus ensuring your goods are at their maximum shelf capacity.

Location is not a problem
If you want to increase your sales and you have a display on shelves, on pallets, at checkouts… With myAVIS® CRM you can manage your records wherever you are. You can then quickly check the correctness of your display using the planograms.

Organizing the day
Good preparation for the working day plays a vital role in the success of your business representative. They are helped
by a clear calendar and route optimizer
using maps and GPS. The app will show the fastest path between customers and the rep can quickly change a customer's ranking within a day.
Give your sales reps the support they need when communicating with hotels, restaurants, cafes, bars, as well as canteens, hospitals, breweries or dairies. myAVIS® CRM software will be your partner 24/7.

Equipment service
Raise your business success with sales support by renting devices or equipment. Keep track of acquisitions, maintenance, contract documentation, inventory or service documents. Then round off a visit to the customer by taking a photo for the database.

Sell from a vehicle
Use our CRM to increase your acquisition activity. Apart from a standard order, sell immediately from a vehicle. The product catalogue is adapted to this. The sale can be made with an invoice, with cash receipts and is connected to EET.

Issuing advertising materials
Grab a customer's attention with other support tools, such as advertising materials. Gain insight into their status, assess the benefits of your investment and have an immediate response to demand.

Acquisitions
Acquisitions with a few moves! With myAVIS® CRM, you won't forget the most important information you need to know about your client. Enter new records, edit existing ones. And build the best business relationships.

Data, data and more data
Collate data not only about your clients, but also about the catering facilities, their size, seasonality, equipment or visitor preferences and requirements. Then effectively translate that data into promotions, loyalty programmes, discounts and more. Don't let an opportunity slip through your fingers.
Ordering without errors
Keep an eye on your products at all times. Make direct and transfer orders during a visit. An attractive product catalogue with easy search program will help you to do this. Work with a basic price list with the option of defining a percentage discount.
Use a modern CRM tool to gain complete control over the state of your inventory, for example by displaying your goods or making your point of sale more attractive.

A tailor-made guide
Proper preparation prevents being caught off guard Define the exact steps the salesperson or merchandiser is to follow during the visit so that nothing is left out. The guide can be edited, but also it can allow changes only upon approval.

Features that help
Make your sales reps' work easier. Features such as one-off data import (IMEX), which makes it easier to enter data from other systems into myAVIS® CRM, or barcode and QR code support will help you do this.

Assess with artificial intelligence
Take a picture of the shelves, send the photo to the server and leave the rest to the system. Artificial intelligence recognizes individual items, determines what is on the shelf and in what quantity. It assesses all the data in a matter of seconds, with no need for a sales rep to cooperate. The merchant simply synchronizes and it's all done.
myAVIS® CRM software is also an invaluable tool in agriculture. No more pen

and paper. Support your sales team with the best software on the market!

Buy with verve
Apart from selling, you can also buy with myAVIS® CRM. Simply register your livestock or crop production during the customer visit and boldly buy it from the customer. In any volume, weight, units.

Keep track of opportunities
Follow the customer's preferences and recommend a tailor-made offer. You can generate an order on the spot. This results in more successfully closed deals. The sales rep can carry out direct and transfer orders in the product catalogue during a standard visit.

Reporting
Send regular reports to an email in all MS Office formats. Always have data available on sales reps, visits, orders.

Administration of receivables
Have an overview of all outstanding invoices, instalments and receipts. The salesperson may collect cash from the customer for certain outstanding receivables. The relevant revenue supporting documents are then automatically generated for the salesperson.
Lower admin
No more filling out timesheets, absence requests, log books, GPS routes. Have it all in one place and in just a few clicks.
But we can do much more! Build the software up from modules offering a whole host of functions that can be combined to suit your needs. Together we will design CRM software to fit your business, software that is tailored to you!